Posted on 01/15/2009 03:41 pm by Toygirl
Here are links to my favorite places to shop: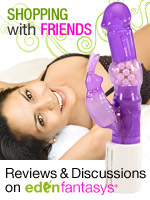 Edenfantasys.com has a huge selection of toys, plus the biggest online community of toy users and reviewers! Shipping is fast, and it's a fantastic resource, since you can read what others have to say before you buy!

Babeland is a woman-friendly sex toy shop with three locations in New York City. If you aren't in the City or prefer to do your sex toy shopping online, they have their entire selection online.
Pinkcherry.com has fast shipping, a wide selection, and great customer service. What more could you ask for?
Tootimid.com is a Boston-based sex shop. Their website offers a huge selection (including a bunch of inexpensive glass toys!)
Good Vibrations has two retail locations, one in San Francisco and the other in Boston. Their full selection is online as well. A great, feminist store!
Sextoy.com has a huge selection of toys and adult DVDs. Check it out!
For Your Nymphomation carries a line of fabulous dedicated sex toy storage, everything from rolling sex toy luggage to condom cases. Must have's for growing collections.
VibeReview has a good selection, and also has reviews for every item. The more reviews you read, the better!